The Lenoir County Agricultural Fair has roots that go as deep as 1915 when the Chamber of Commerce formed the first Kinston Fair Association. The Great Kinston Fair was created first as a regional fair and included 10 counties (Lenoir, Jones, Onslow, Pender, Wayne, Greene, Duplin, Carteret, Pitt, and Craven). The fair was located on 14 acres rented from the Abbott Farm about a mile out of town going toward Goldsboro. That area of Kinston today is known as Fairfield because it was the site of the Kinston fair for many years. Fairgoers came from as many as 100 miles away to visit this spectacular event.
The Great Kinston fair continued for several years before becoming dormant in the 1920s but was revived in the early 1950's by the Lenoir County Jaycees. The fair was then moved to property near Summit Avenue & ran there until 1963 when property was purchased at our current location of 401 Fairgrounds Rd. Many of the Jaycees who aged out but still had a passion for the fair, created the Lenoir County Fair Association in the 1970s & co-managed the property & the fair until 2010 when the Jaycees ceased to exist & all property was turned over to the Fair Association.
The Lenoir County Agricultural Fair is now managed by the all-volunteer Lenoir County Fair Association in its 68th consecutive year & sees well over 10,000 visitors every fall.
** TICKET PRESALE **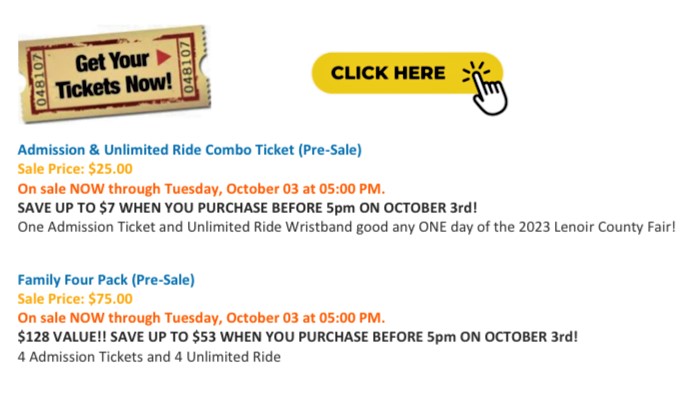 ** VENDORS **
Showcase your products and services to over 10,000 fairgoers over a five-day week.
Great opportunity to showcase @ the county fair. Complete vendor app and sign up today!
Commercial Exhibit Hall and Midway Rentals
Sponsorship Opportunities Available
Contact Us Today!
Tractor Driving, Demolition Derby, Cake & Cookie Baking, Diaper Derby, and more!
Live music, shows, cheerleading competition, and more!
You can watch directly on Vivavideo app & can download videos.